Since 1994, Concept Bath Systems, Inc. has professionally converted tubs into functional showers. If your bathroom needs a modern update or you need a safer alternative to climbing into a tub, our expert team can help. An expert tub-to-shower conversion is a great way to get you the bathroom design of your dreams!
Convenient, Safe & Attractive Showers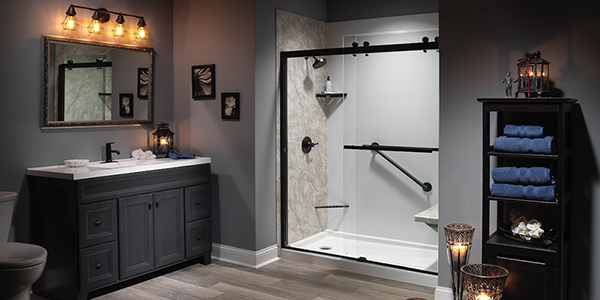 There are many benefits to converting a tub into a shower, especially if your home has a smaller bathroom space. An elegant and spacious shower can make your bathroom look larger and more inviting. Showers also typically require less space than tubs, which means you'll gain square footage that can be used for additional storage, a new vanity and more!
Showers also offer advantages for people with mobility limitations. If entering and exiting a traditional tub is difficult for you, a walk-in shower can eliminate that challenge. And with the installation of grab bars, seats, hand showers and other handicap-accessible features, Concept Bath Systems, Inc. can further enhance your shower's functionality.
Reinventing Bathrooms With Quality Products
Regardless of why you want to convert your tub into a shower, Concept Bath Systems, Inc. will help you find the best products to meet your particular needs. We carry bathroom products in many styles, colors and materials, making it easy for you to completely customize the shower. We care about what works for you and your home, so count on Concept Bath Systems, Inc. to take care of every aspect of your bathroom design project. From tub-to-shower conversions to flooring installation, painting and everything in between, we'll be here when you need us most.
Schedule a Free Design Consultation Today
If you're interested in learning more about our high-quality tub-to-shower conversions, give Concept Bath Systems, Inc. a call at 563-344-9138 or contact us online. Our local bathroom design experts provide free consultations and estimates, so reach out and get your remodeling project started today!