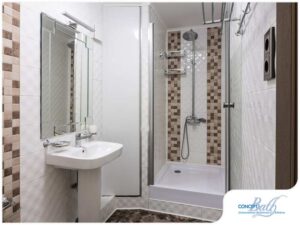 You might think that remodeling your small shower space will be difficult, but there are many easy ways for you to spice it up and make it look spacious. With these convenient and helpful tips, you don't have to tear down your bathroom walls to expand your shower space. All you have to do is to maximize the space of your small bathroom effectively.
Shower Design
Concept Bath Systems, Inc., known for their quality bathroom and kitchen design ideas, shares some tips on how you can properly remodel a small shower space.
Save Storage Space
You can now say goodbye to shampoo and body wash bottles cluttered all over your countertops. By installing a shelf in the shower, you can create a space for storage, including your soaps and bottles. If you want a more impressive and elegant design, you might want to get a shower niche. You can also place towel racks above a tub or the spray of your shower stall.
Choose a Strategic Floor Pattern
With a carefully planned bathroom design, you can make your shower appear more spacious by the pattern of your floor. For a smaller bathroom, most designers suggest the use of larger tiles. Unbroken lines give any space more depth, so you might want to try installing the same tile on your bathroom floor and shower to make your room seem larger than it is. A diagonal pattern also creates the same illusion of a bigger space.
Install a Clear Shower Enclosure
If your bathroom currently has the tub and shower combination, you might want to install a clear glass enclosure with minimal hardware to make your bathroom seem more spacious as well. Both your tub and shower stall will benefit from the glass doors. A clear shower curtain that allows the light in is also a great alternative if you don't prefer glass. Additionally, keep in mind that a curved or triangular shower stall takes up less space in your bathroom.
With these shower design tips, you don't have to feel so confined in your small bathroom. For inquiries on bathroom remodeling, turn to Concept Bath Systems, Inc. You can also get in touch with us for ideas on kitchen countertops and remodeling. Call us at 563-344-9138 or fill out our contact form to set an appointment.